SAP S/4HANA is the biggest platform upgrade in the SAP world since the introduction of R/3 in the 1990s. Preparing an enterprise for this large-scale transformation is not an easy process. 
From the moment you decide to move to S/4HANA to the moment you go live, there are a number of critical tasks that need to be completed to ensure a smooth transition of data and business processes. If your company is using OpenText solutions that are integrated into SAP, such as Extended ECM, Document Presentment, Content Suite, Archive Center, Vendor Invoice Management, Digital Asset Management, or others, you need to make sure to get them S/4HANA ready by following best practices, in order to avoid unsupported product combinations, performance slowdowns, and connectivity issues.
But what is SAP S/4HANA? And how can you ensure you prepare your OpenText solutions correctly and effectively for the big transition? In this blog post, we cover the key tasks that need to be considered in order to get OpenText Solutions SAP S/4HANA ready.
What is SAP S/4HANA?
SAP S/4HANA is an enterprise resource planning (ERP) software based on the SAP HANA in-memory database that allows enterprise companies to perform transactions and analyze business data in real-time. The software is developed by SAP SE, a German multinational software company based in Walldorf, Baden-Württemberg. SAP S/4HANA is the successor to SAP R/3 and SAP ECC and is optimized for SAP's in-memory database SAP HANA.
SAP S/4HANA Migration Approaches
Companies have three alternative approaches they can take when migrating to S/4HANA from their old ERP system. These include 'greenfield', 'brownfield', and 'hybrid' deployment options.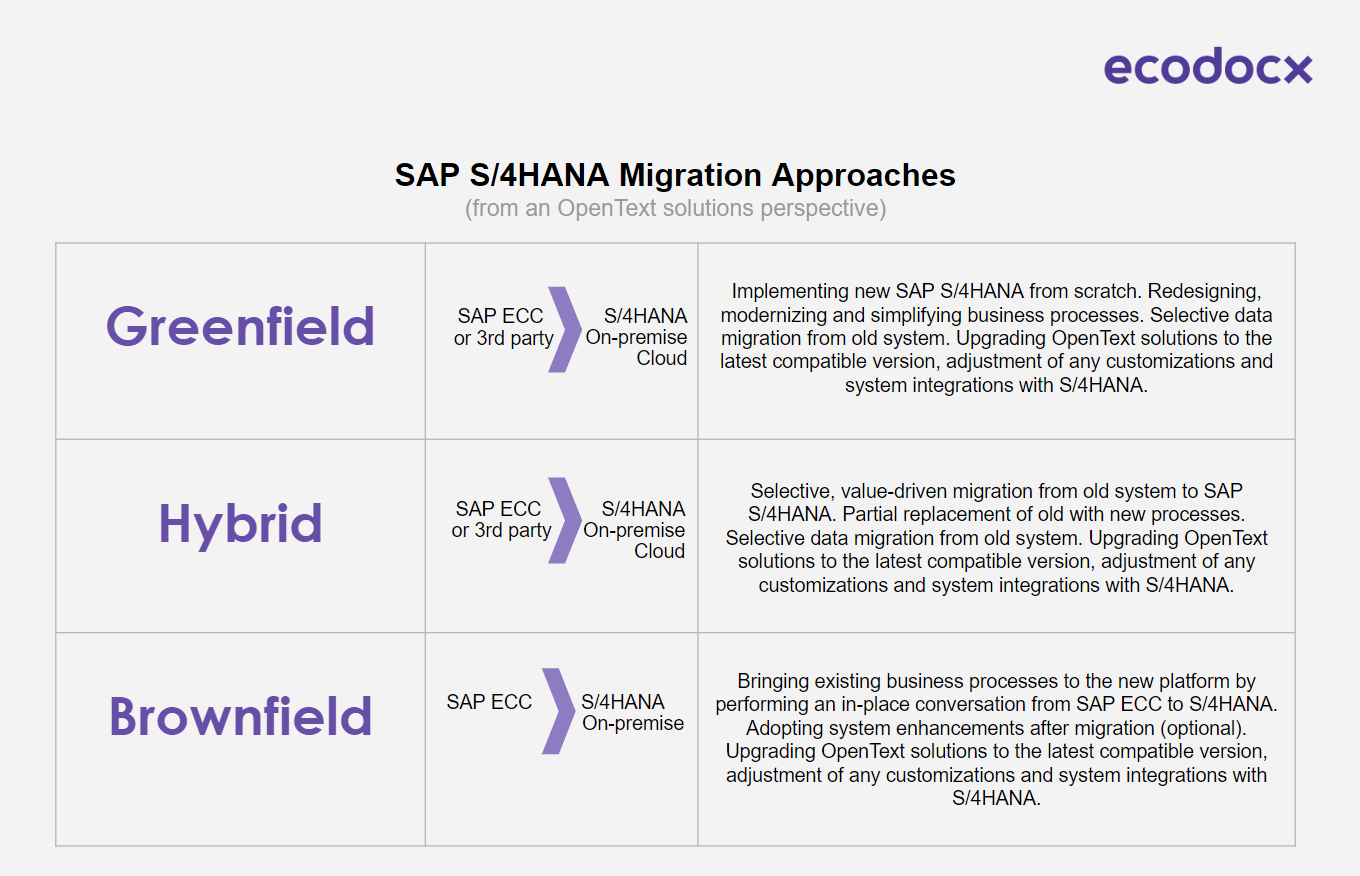 Greenfield Approach: This approach involves implementing a new S/4HANA system from scratch, without using any of the existing SAP ECC system components. This approach allows for maximum flexibility and the opportunity to take full advantage of the benefits of S/4HANA, but it is the most time-consuming and expensive approach, from an SAP and OpenText solutions perspective. This is a great option particularly if the existing processes are no longer serving the business in an optimal way, or if the existing solution was implemented incorrectly and a major overhaul is needed. When choosing this approach, make sure to involve your OpenText service provider in discussions from an early stage.
Hybrid Approach: This approach involves a combination of the brownfield and greenfield approaches. Some components of the existing SAP ECC system are retained while others are replaced with new components in the S/4HANA system. This approach balances the benefits of both approaches, allowing for some flexibility while minimizing disruption to business operations. When following this approach, existing process configurations are replicated in S/4HANA, but the configuration is initially kept separate from the data. The existing processes and configurations on SAP and OpenText side serve as a template, which is reviewed and modified, as needed, to better meet the organization's future business needs. Once the configuration of the new S/4HANA environment is completed, relevant data will be transformed and migrated from the old ERP environment to the new one, after which the new environment will be tested and deployed into production. From an effort and cost perspective, it all depends on how many alterations will be made. Theoretically, this approach can be the best of both worlds. Just like with the greenfield approach, make sure to involve your OpenText service provider in discussions from an early stage.
Brownfield Approach: This approach involves upgrading the existing SAP ECC system to S/4HANA without making significant changes to the existing system. The goal is to preserve as much of the existing functionality as possible and minimize disruption to business operations. This approach is typically quicker and less expensive than other approaches and requires minimum changes on OpenText solutions side (e.g. upgrade to the latest compatible version, update of any customizations and integrations, if needed), but it may not take full advantage of the benefits of S/4HANA. Customers choosing the brownfield approach will still be able to benefit from the improved performance of S/4HANA. And once the migration is completed, new user experiences can be built, for example using SAP Fiori. 
Ultimately, the choice of approach will depend on a variety of factors, including the organization's goals, timeline, budget, and existing SAP system.  It's important to carefully evaluate the pros and cons of each approach before making a decision.
How to Prepare OpenText Solutions for the SAP S/4HANA?
We at Ecodocx have helped many organizations get their OpenText solutions SAP S/4HANA ready. Here are the main steps your company should take to get your current OpenText solutions S/4HANA ready:
Understand your current OpenText solution landscape:

Take an inventory of your current OpenText solutions and their integration with your SAP environment. Review 3rd party tools that may be integrated into your OpenText and SAP systems. Identify any dependencies and customizations.

Assess the impact of S/4HANA on your OpenText solutions: Evaluate how the migration to S/4HANA may impact your OpenText solutions. Identify any potential compatibility issues and assess the need for patches, updates or upgrades.
Perform a health check: The S/4HANA journey is a great chance to check the current architecture of OpenText solutions to identify sources of contention, performance issues, and possible misconfigurations. Assess the system for potential failures, slowdowns or weak points.
Identify potential areas for optimization: If your organization is running legacy and/or home-grown solutions for any document-based processes in your organization (e.g. content management, customer experience management, vendor invoice management, human resource management, engineering, procurement, system administration, and asset management) on top of your SAP ECC system, you should explore the possibility of replacing them with a solution from OpenText. OpenText's product portfolio offers a variety of information management solutions that integrate seamlessly with SAP S/4HANA. This option guarantees that your organization is investing in a future-proof product, that will be continuously developed and enhanced. And with each update, users will be able to benefit from new features and enhancements. Also, long-term, from a maintenance perspective, finding qualified resources with OpenText expertise will be easier than finding resources with expertise in legacy technology. 
Engage with a trusted team of certified OpenText experts: experienced OpenText experts have hands-on experience helping organizations get their OpenText solution S/4HANA ready, and can provide inside knowledge, and guidance on best practices for preparing your OpenText solutions for S/4HANA. Reach out to them for advice and support.
Plan the upgrade carefully: Before starting the upgrade, it is important to have a detailed plan that covers all aspects of the upgrade, including the hosting approach (on-prem, private or public cloud, or hybrid) the project scope, timeline, resources, and risks. This plan should be reviewed and approved by all stakeholders, including IT, business, and functional teams.
Prepare for data migration: Data migration is a critical aspect of any upgrade process. It is important to identify the data that needs to be migrated, the data sources, and the mapping rules. It is also important to test the data migration process to ensure that it is accurate and complete.
Plan and execute testing: Work with business and tech users and identify all software use cases. Based on your findings, develop a testing plan that includes testing your OpenText solutions in a S/4HANA QA/Test environment. This can help you identify and address any issues before migrating to production.
Update and optimize your OpenText solutions: Depending on the results of your testing, you may need to update or optimize your OpenText solutions to ensure compatibility with S/4HANA. Work with OpenText experts to determine the best approach for your organization.
Train your users and communicate changes to all involved parties: Communicate changes to all stakeholders: Communication is key to ensuring a smooth change process. All stakeholders, including users, IT, and business teams, should be informed of the project timeline, impacts, and any changes to the system. And, as with any major system migration, it's important to train your users on the new S/4HANA environment and any changes to your OpenText solutions.

Wrap-up & Advice

Upgrading to SAP S/4HANA is an exciting and challenging journey. While most attention is focused on the SAP solutions landscape we recommend not to underestimate the complexity of the OpenText solutions that live on top of it, since they help optimize bill generation, customer communications, accounts payable processes, content management, digital asset management, and much more.

By following the above steps, and working with a trusted service provider, who has strong expertise in OpenText solutions, you can help your organization ensure that your OpenText solutions are ready for the transition to S/4HANA. 

Need Help Getting OpenText Solutions SAP S/4HANA Ready?

Get in touch with us. The team of Ecodocx is focusing on providing OpenText services for almost two decades. We have a proven track record of helping organizations of all shapes and sizes successfully upgrade and transform their OpenText solution landscape, especially with SAP. Check out our customer success stories.  Talk to an expert.