At OpenText Enterprise World Digital, Mark Barrenechea talked about how Information Management sits at the heart of the resilient organization. OpenText announced its most comprehensive cloud update, with the delivery of OpenText Cloud Editions (CE) and release 20.2. This release provides a strengthened information infrastructure, empowering organizations to quickly respond and adapt to a business climate defined by new ways to work.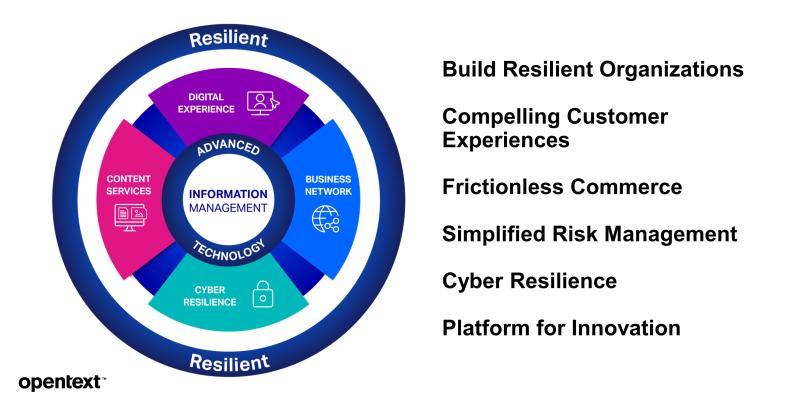 OpenText Cloud Editions (CE)  and release 20.2 offers flexible cloud-deployment options with managed service expertise, new Core SaaS applications and services, developer-centric innovations, and the latest Trading Grid™ cloud integration platform designed to unlock the value of an organization's information assets.
"We are operating in unprecedented times – as we together face a global pandemic that is changing the very nature of work, life and supply chains," said Mark J. Barrenechea, OpenText CEO and CTO. "OpenText Cloud Editions (CE), OpenText OT2 Applications, and our new Business Network are designed to help customers manage and transition to new priorities. Our latest software and services provide cyber resilience, secure information platforms and allow customers to digitize business processes and work from anywhere. We proudly stand with our customers and partners who are on the front-line of this global pandemic."
Along with OpenText Cloud Editions, OpenText talked about innovative features and capabilities:
OpenText Content Services – With the latest release of

Extended ECM for Microsoft Office 365

, remote workers can collaborate on business content and store Microsoft Teams documents and chats as records. AI-powered

Intelligent Capture

automates filing of documents and metadata in an Extended ECM workspace. As part of the ongoing investment in

Documentum

, support for the SAP Fiori UI has been added to

Extended ECM for Documentum

.
OpenText Customer Experience Management – Marketers can author, personalize and orchestrate multi-channel communications directly from the browser with

Exstream

, including new collaborative review with visual compare capabilities.

Media Management

gets advanced home screen personalization and collections sharing, as well as job flow automation.

TeamSite

™

and

Optimost

™

introduce streamlined targeting and experimentation for rapid promotion of best performing content and assets.
OpenText AppWorks – Developers can more quickly and easily automate processes and create applications with simplified security capabilities and new drag and drop UX features.

OpenText Security –

Encase Endpoint Investigator

and

Endpoint Forensics

now run full-spectrum investigations on Apple devices running the Apple T2 Security Chip.

EnCase

Endpoint Security

raises the bar for instantaneous endpoint detection and response – adding real-time monitoring for crucial persistence artifacts. For forensic labs, government agencies and corporations, remote access with Tableau TX1 Forensic Imager is further improved with secure 802.1x network connectivity.

OpenText AI and Analytics –

Magellan BI

and

Reporting

delivers a what-you-see-is-what-you-get experience for simplified self-service dashboard authoring. This release also introduces emotional analysis in

Magellan Text Mining

as well as new connector and crawling capabilities.

OpenText Legal Tech –

Insight Examiner

is a new cloud investigation application that rapidly discovers the unknown facts of an investigation and surfaces relevant documents.

Insight

adds new Cut Point review feature that rapidly produces data without manual review as part of defensible technology-assisted review (TAR).

Axcelerate

and

Magellan

are now integrated to support AI-powered text analytics for search and enrichment.
Request OpenText Consultation
Looking for a piece of advice on OpenText products? We are here for you not only as a service provider, but also as a true partner. We are happy to schedule an online meeting and help businesses minimize the consequences of the covid-19 outbreak.
Our experts are happy to evaluate your current OpenText investment, discuss challenges, like functional gaps, automation, performance and capacity planning. 
Headquartered in Boston Massachusetts, and our team of developers and support engineers have been working with OpenText solutions and modules for many years. Having worked in this industry for more than two decades and delivered 600+ projects, we worked out a secure and comprehensive way to help organizations implement and customize OpenText products. Contact us and request an OpenText advisory session.