As many of our readers might know, we at Ecodocx always try to continuously educate ourselves on everything OpenText software-related, including the latest product updates, in order to help our customers make informed business decisions. 
And therefore, just like every year, we attended OpenText World. For those who don't know what this is, it's an annual conference hosted by OpenText Corporation where the company presents the latest product updates, use cases and customer success stories. 
This year the event was taking place again at The Venetian Hotel in Las Vegas, Nevada. For those of you, who missed this event, we recommend checking out the on-demand session recordings. They will be available online until November 17th, 2023.

OpenText Aviator – Pioneering the Enterprise AI Era 
This year's conference centered around AI, emphasizing OpenText Corporation's commitment to assisting organizations in leveraging this technology to enrich their solutions portfolio. The introduction of OpenText Aviator marked a significant development. Aviator comprises a suite of tools that imbue OpenText Information Management—encompassing content, experience, business network, IT operations, developer operations, and cybersecurity—with generative AI capabilities.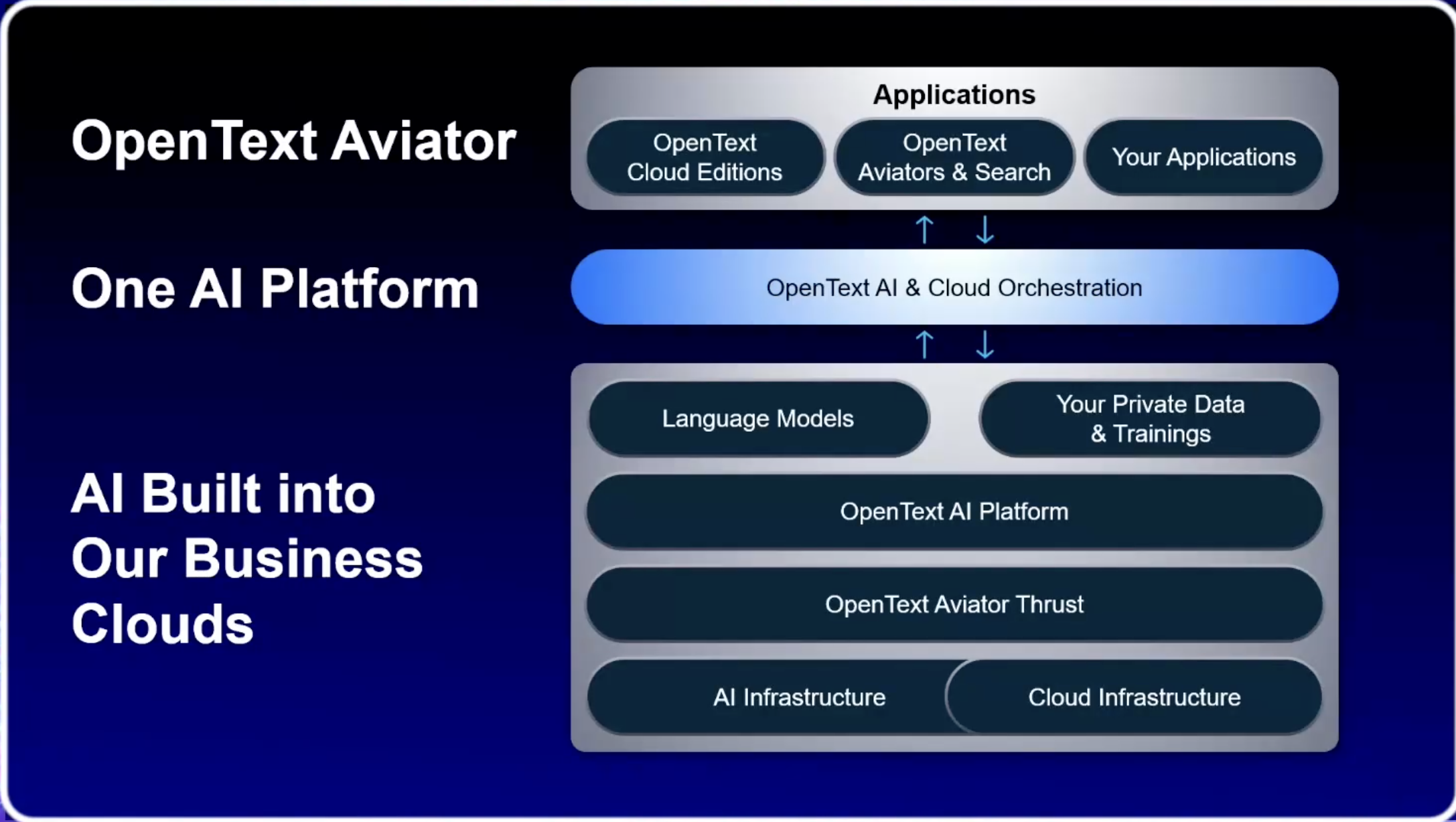 Introducing OpenText Aviator
OpenText Aviator for Technologists
OpenText Aviator for Technologists serves as the fundamental AI platform along with AI engineering tools that customers can utilize to intake, modify, and enhance their data, providing the necessary fuel for AI. To enable large learning models (LLMs) to function effectively, customers must structure their data, construct data fabrics, and orchestrate suitable information syntax and flows. Once the data strategy is well-defined, and information flows are executable, the transition from clicks to conversations and the acceleration of work from days to minutes become achievable.
OpenText Aviator for Technologists provides foundational AI platforms and engineering tools. Customers can harness these tools to ingest, transform, and enrich their data, laying the groundwork for AI integration. The suite includes:
Aviator Platform: Enables information digitalization, supporting multiple large language models and automating decision support.
Aviator Thrust: A comprehensive portfolio covering data governance, information protection, security, risk management, and compliance.
Aviator Search: Facilitates natural language queries, allowing organizations to interact with cognitive engines and swiftly access data.
Aviator IoT: Enables automated tagging, tracking, and environment monitoring for efficient asset management.
Aviator Information Orchestration: Integrates AI into automation, managing information flows across applications, business clouds, language models, operational and experience data.
Aviator Business Clouds: Employs AI across functions like IT Operations, DevOps, Experience, Content, Business Network, and Cybersecurity.
OpenText Aviator for Business
OpenText Aviator for Business integrates generative AI capabilities with other OpenText business applications, embedding AI within automated workflows for decision automation.
OpenText Experience Aviator for Exstream and Media Management

Customers of OpenText Exstream and Media Management (DAM) can leverage OpenText Aviator to auto-generate contextual, personalized content, enhancing customer interactions. This integration facilitates compliance and provides insights into optimal experiences.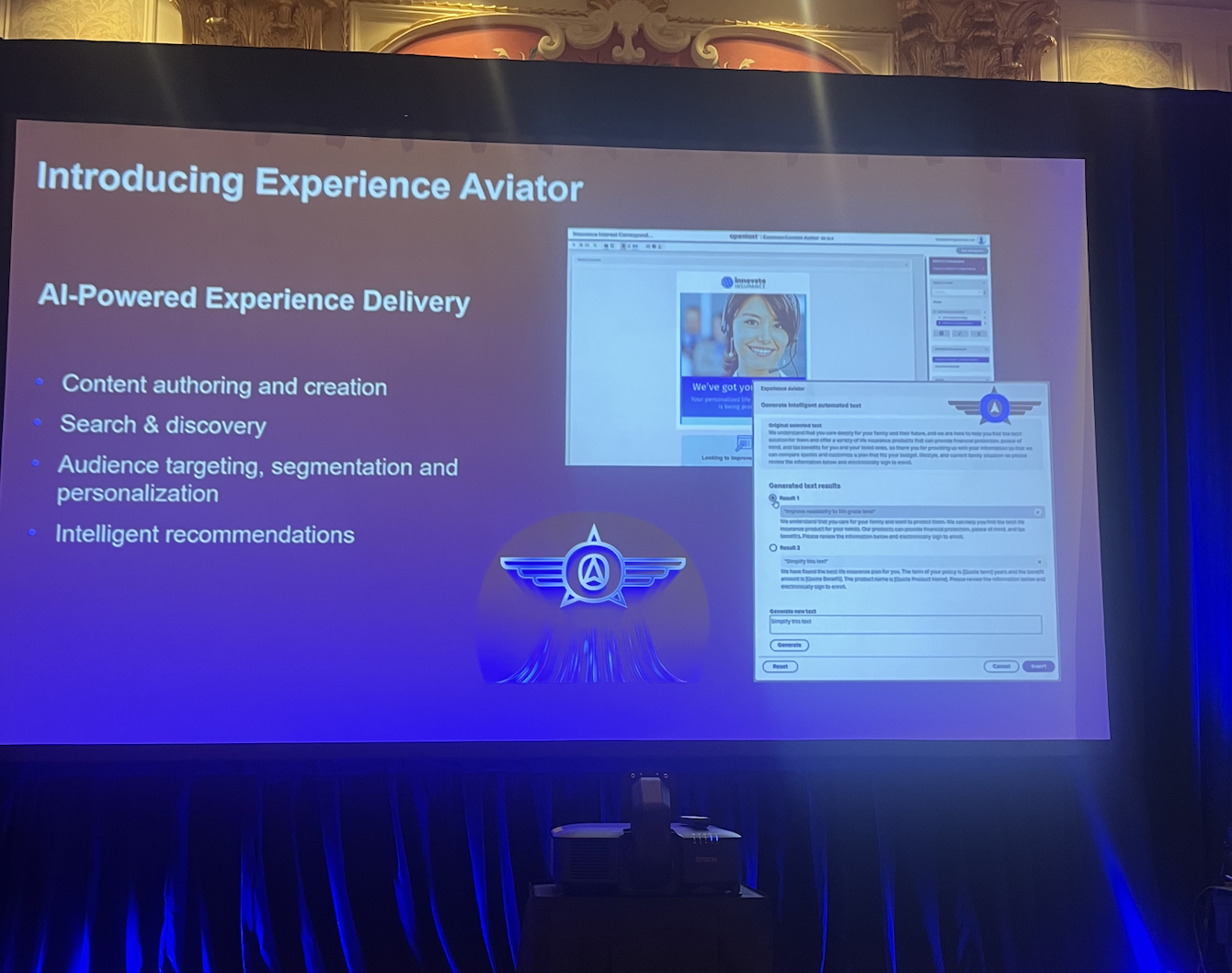 OpenText Experience Aviator for Exstream and Media Management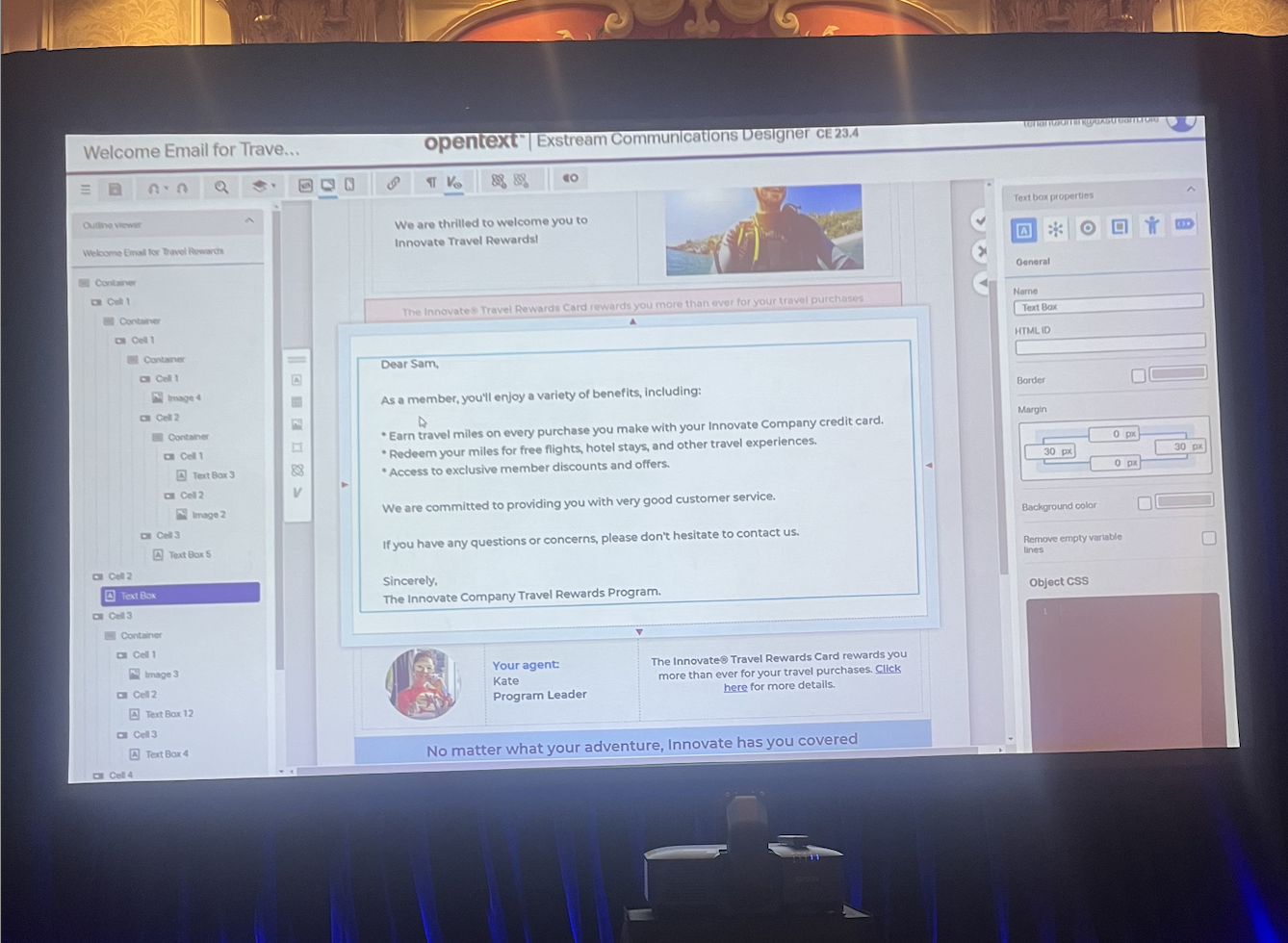 OpenText Experience Aviator integrated with OpenText Exstream
OpenText Content Aviator for Extended ECM, Documentum, and Core
OpenText Extended ECM, Documentum, and Core Content customers can utilize Content Aviator to infuse generative AI and large language models into content services platforms. This enables chat-based conversational search, content discovery, summarization, and translation, transforming how employees interact with content and extract insights.
OpenText Content Aviator integrated with OpenText Core (or Extended ECM): Helping process a newly received insurance claim
OpenText Cybersecurity Aviator
Integrated into the OpenText Cybersecurity portfolio, Cybersecurity Aviator enhances threat detection through machine learning models. Its innovative approach combines continuous learning with rapid deployment, ensuring agility in responding to emerging threats.
OpenText IT Operations Aviator
Revolutionizing Tier 1 and live agent support, IT Operations Aviator is a secure virtual agent for OpenText Service Management Automation X (SMAX), powered by private, generative AI.
OpenText IT Operations Aviator in use
DevOps Aviator expedites application development by aiding developers in identifying gaps, conducting testing, and writing code, facilitating faster deployment.
OpenText Business Network Aviator
Bringing generative AI and large language models to the OpenText Business Network Cloud, Business Network Aviator enhances supply chain information flows. With a 360-degree view of operations and a conversational AI interface, it enables more informed decision-making. Business Network Aviator facilitates changing suppliers based on specific product requirements.
OpenText Business Network Aviator helps change suppliers based on specific product requirements
Wrap-up and Advice
In conclusion, OpenText World 2023 showcased the evolution of AI through OpenText Aviator, offering a comprehensive suite of tools to empower businesses across various domains. From transforming information orchestration to reimagining work with generative AI, OpenText continues to lead in innovation. It's exciting to see how AI will accelerate the usability of existing solutions, such as OpenText Exstream, Media Management, Extended ECM, and others.
For inquiries on how your organization can leverage these cutting-edge technologies, reach out to us at Ecodocx. Our team is ready to guide you in integrating OpenText solutions tailored to your business needs. Contact us today to embark on a transformative journey into the realm of AI-driven possibilities.