This post was originally posted in June 2017, and updated on April 7th 2021.
If you are using OpenText™ Customer Communications Management solutions, like StreamServe or Exstream for document generation and distribution, you might have heard that these products gained a wide range of functions and passed some important milestones in their development and branding in the past couple of years. We often come across customers with a lack of knowledge about OpenText™ StreamServe and Exstream product history. We believe that understanding the history is critical as it helps understand the product roadmap. 
And, since Ecodocx team members have been involved in the support, professional services and development of StreamServe and Exstream solutions, and gained a lot of hands-on experience working with OpenText™ products for the last two decades, we decided to summarize the story of OpenText™ CCM solutions, StreamServe and Exstream, for our blog subscribers. 
Acquisition of StreamServe
Founded in 1991 and headquartered in Waterloo, Canada, OpenText™ has a rich history of innovation and growth as a true enterprise information management software (EIM) industry leader. OpenText™'s story of Customer Communications Management (CCM) products starts in 2010 with the acquisition of StreamServe. StreamServe has always been one of the top players in the Customer Communications Management market. Founded in 1997 in Sweden, StreamServe gained very quickly a strong customer base due to its many and tight partnerships with leading ERP, CRM and supply-chain solutions providers, such as Adobe Systems, IBM, InfoPrint Solutions Company (trademark of Ricoh Production Print), Infor, IFS and SAP, and the solution gained a decent customer base.
Mostly because of it's tight integration into SAP (marketed as Document Presentment for SAP Solutions), StreamServe was acquired by OpenText™. Back then OpenText™ and SAP already had a strong partner relationship. Like OpenText™, StreamServe had an established reseller partnership with SAP making it a natural fit with OpenText™'s SAP partner strategy.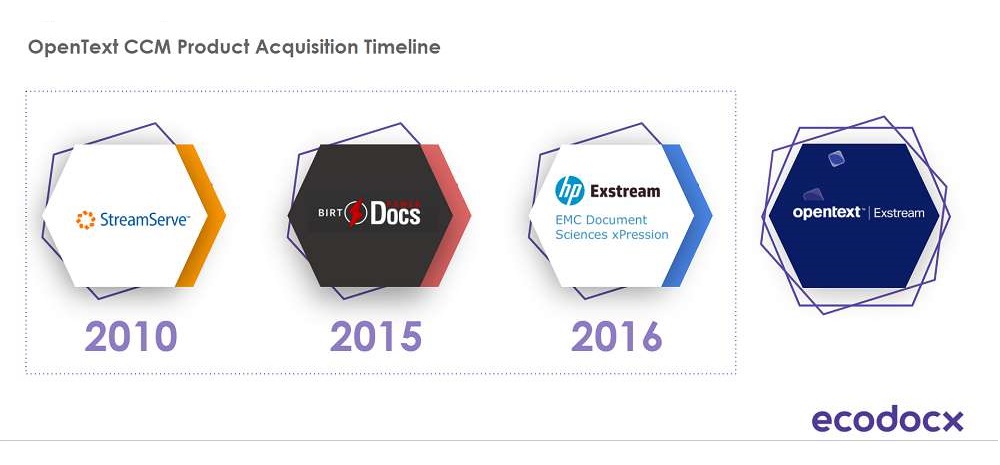 OpenText™ CCM Product Acquisition Timeline
Acquisition of BIRT PowerDocs
In 2015, OpenText™ acquired Actuate Corporation, a BIRT company. As a result, OpenText™ purchased another CCM solution, PowerDocs, a cloud-based tool for creating customer documents owned by Actuate Corporation (previously owned by legodo). While StreamServe was best used for batch processing, PowerDocs was designed for on-demand output management and enabled tight integration between MS Word and Salesforce and/or Oracle. The StreamServe part was renamed to Customer Communications Enterprise (CCE), and the PowerDocs part was renamed to Customer Communications CRM.
Acquisition of HP Exstream and EMC xPression
In 2016, OpenText™ acquired one of it's biggest competitors in the CCM space – HP Exstream. HP Exstream was designed to generate high volume documents, and mostly marketed and sold to Print Service Providers, Insurance and Financial Services. HP Exstream had an out of the box integration into Guidewire.

In addition, in 2016 Dell completed the merger with EMC Corp., and sold the EMC Enterprise Content Division (ECD) to OpenText™ for $1.6 billion. It was announced as the beginning of a new era. This brought one more CCM product to OpenText™, EMC xPression.

As a result, in April 2017 OpenText™ introduced OpenText™ Exstream 16.2, a next-generation Customer Communications Management platform, combining the best features from Customer Communications Enterprise (formerly StreamServe) and Exstream (formerly HP Exstream). Starting from Exstream 16.4, OpenText™ offered its xPression customers a migration path from xPression xDesign to Exstream Design Manager and Designer, including conversion tools.
OpenText
™

Exstream Today

Today, the product line branded as OpenText™ Exstream is actively used by more than 5,000 customers in 130 countries, primarily in the financial services, utilities, manufacturing, distribution and telecom sectors. OpenText™ Exstream is a leading customer communications management solution and recognized in the IDC MarketScape and Aspire Leaderboard for Customer Communications. OpenText™ Exstream can run on-premises or in users' choice of cloud (AWS, Azure, Google and OpenText™ cloud). Main technology partners include SAP, Salesforce, Infor, Guidewire, and Duck Creek.

Customers include BMW, Mercedes-Benz, Siemens Financial, AmerisourceBergen, L'Oreal, KPN, H&M, TMVW, du, IWB, Sysco, New York Life Insurance, Enkla Elbolaget, IT-Power, SourceGas, Irish Dairy Board, Marel, Media Logistics, DONG Energy, SSAB, Blokker, Merrill Lynch, Northshore Credit, Humana, Aviva Insurance, Penn National, Unum, RDS Group, Denver Water, E.On, FWD Life Insurance Company (Bermuda) Limited, and many more.