Even though OpenText released Archive Center 16.0 back in March 2016, there are still a lot of customers running on previous versions, like 10.x or 9.x. Therefore, after helping many companies to securely and transparency move to version 16.0 and 16.2, we decided to publish this article and help companies, that are only planning their upgrade project, by providing useful information.
Introducing OpenText Archive Center 16.2
OpenText Archive Center
is a scalable and integrated service for archiving all your enterprise content. This content is archived on a secure document repository, giving you the guarantee that all documents are safely stored for years, yet still instantly available when needed.
Archive Center 16.2
is built on top of the proven Archive Server technology.
Features and Updates in Version 16.2
New Hosting Options


Available in on premises (flexible customer-tailored environment), private cloud (perpetual license hosted in cloud of choice, or public cloud (cloud edition with multi-tenant environment provided from OpenText as a SaaS offering) environments.

Improved Layer Structure
Starting with version 16, OpenText delivers Archive Center only, which consists of the known Archive Server plus the Archive Center application layer, which offers a CMIS 1.1 compliant repository for stand-alone scenarios. Both services can run on the same host.The ArchiveLink interface allows to store unstructured content, while the structured content is managed by leading applications. Typical integrations are Suite for SAP Solution and Content Suite Platform. The CMIS 1.1 API allows to store structured and unstructured content in the Archive Center. Thus, any CMIS enabled client can be used to access data stored in Archive Center. Customers can deploy one Archive Center host to use the ArchiveLink and CMIS interface.

Advanced Function Presentation (AFP) Documents
Multi-document file Archive Center now supports Advanced Function Presentation (AFP) Documents. This includes the following functionality: support for TLE (tag logical element) metadata, simplified customizing for OTE Designer project, support for folder-less collections, auto-delete of AFP files. Please note: AFP requires Archive Center Application Layer.

New Operating System Support
Windows Server 16, Red Hat RHEL 6 and 7, Novell Suse Linux SLES 12, IBM AIX 7.1 and Oracle Linux 6 and 7.

New & Modernized Platform Support
Support OpenJDK 11 and OracleJDK 11, SQL Server 2017, Azure SQL, Oracle 12.2 RAC, Postgre, SAP HANA Database 2.0 SP3, Netapp Snaplock (Ontap 9.3) and Dell-EMC ECS (CAS-API)

New Storage Systems
EMC Isilon storage system (with Archive Center patch collection 16.2.2)
Support Lifecycle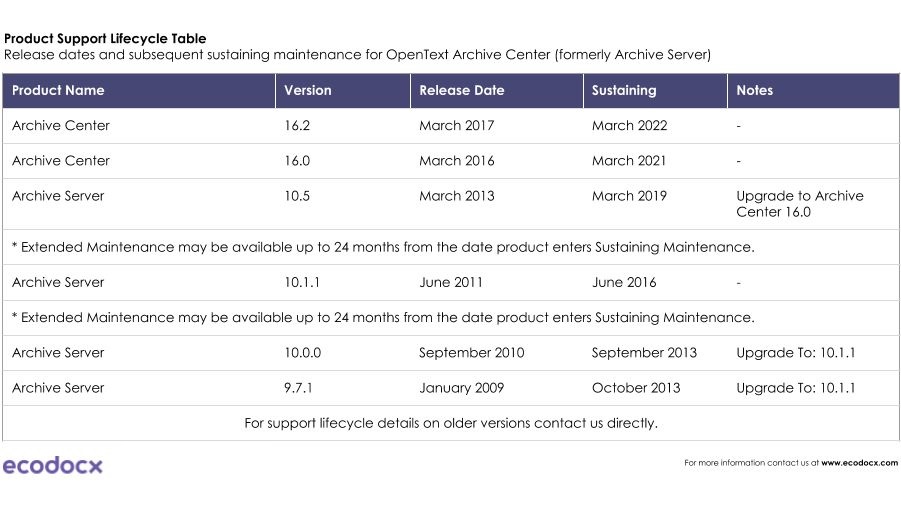 OpenText Archive Center Upgrade: Consultation and Professional Services
Does your company plan to upgrade from OpenText Archive Server 10.5 to Archive Center 16.2? We're here to help. Headquartered in Boston, Massachusetts, Ecodocx is a certified OpenText and SAP services partner with a product focus on Customer Experience Management (CEM, CCM) and Enterprise Content Management (ECM), and industry focus on Utilities, Healthcare, Insurance, Manufacturing, Pharma, Finance, Energy, and Telecommunications. 
Having worked in this industry for more than two decades and delivered 600+ projects, we worked out a secure and comprehensive way to help organizations move to version 16. Contact us and schedule a personal free of charge consultation with one of our senior OpenText Experts.