What is OpenText Exstream?
OpenText Exstream is an innovative Customer Communications Management (CCM) platform. It simplifies the design, creation, editing, output, and delivery of printed and electronic customer communications, including those produced in high-volume, on-demand, and interactive environments, regardless of their complexity, variability, or output channel. User permissions settings ensure compliance.
It combines Exstream's high- productive engine and interactive editing capabilities with StreamServe's (also known as Communications Center Enterprise) event-driven transactional processing model and out-of-the-box integration flexibility. The result is a powerful communication platform.
With the solution's web applications, different departments within your organization can control and customize whole documents, or certain parts of a document without the need to wait for updates from IT staff, which free up IT resources, and cuts production and go-to-market time. Learn more about OpenText Exstream interactive communication tools for business users.
How does OpenText Exstream work?
OpenText Exstream is like a bridge that enables the generation of any type of document (over 60 supported formats) by using any type of data source. OpenText Exstream is typically used in combination with the following business applications: OpenText (Content Server), SAP (CRM, Hybris, C4C, mySAP), Infor (M3, Lawson), Microsoft (Dynamics 365), Salesforce (Salesforce CRM), Oracle (JD Edwards), Guidewire (Insurance Suite).
Simplify and automate document composition and administration

– streamline document-related business processes to reduce costs and increase business efficiency.

Empower your users

– your colleagues will receive practical control over their documents and dispatch methods required to automate everyday work processes. You do not need to involve the IT department every time a document needs to be changed.
Streamline business processes

– whether it's about communicating with customers or suppliers, internal document flow or easing payments and earnings.
Engage your customers

– whether it's one-to-one communication or large volumes of batch-produced documents, make every single interaction that your clients have with your company as smooth and pleasant as possible!
OpenText Exstream Architecture
OpenText Exstream 16.2 and later versions combine a variety of powerful applications from Exstream engine (former HP Exstream), CCE (formerly StreamServe) and some new applications developed by OpenText for version 16.x. This solution package offers a combination of web and desktop applications that combine processing engine options and design tools into a single, powerful, integrated Customer Communications Management (CCM) platform, orchestrated by the Exstream Communications Server: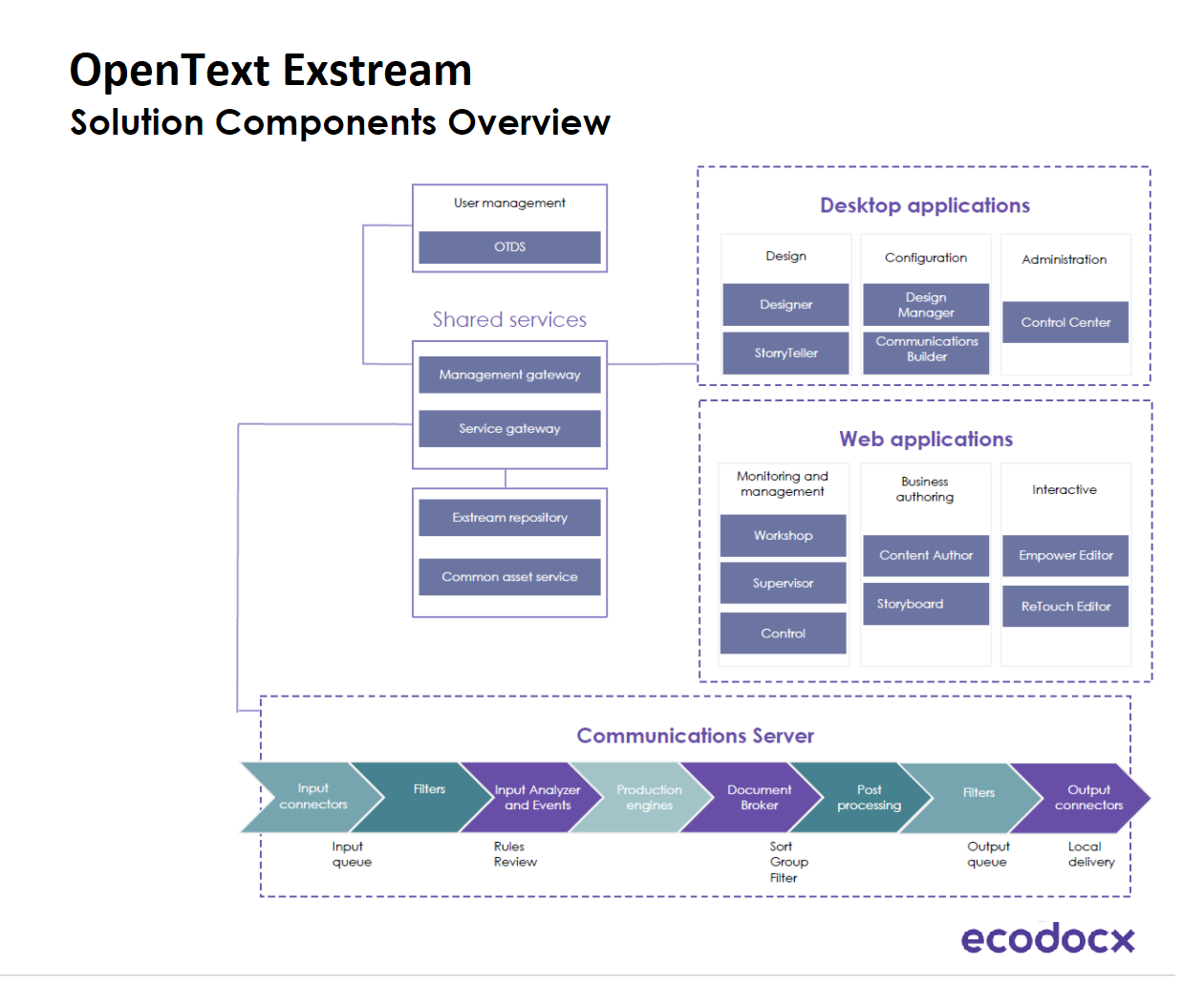 Desktop applications

used for customer communications design (Designer and StoryTeller), settings configuration (Design Manager and Communications Builder), and system administration (Control Center).

Web applications

for print job monitoring and management (Workshop, Supervisor, Control), for user-friendly document authoring (Content Author and Storyboard), and for interactive communications (Empower Editor and Retouch Editor).

Shared platform services

: C

ommunications Server applications and other OpenText Exstream applications, such as Service Gateways, run on the Exstream framework, which contains a Management Gateway and core platform services.

Repositories and Common Asset Service (CAS) for central access to, and storage of resources used in Exstream solutions.

OTDS (OpenText Directory Services) used for access control within OpenText Exstream

applications. Can be synchronized with LDAP identity providers, such as Microsoft Active Directory.
Case Study – New York Life Insurance
With OpenText Exstream, our customers have experienced easier, faster, and simpler communications with their customers and suppliers. Read our customer success story on how New York Life Insurance, a leading life insurance provider in the United States, team up with Ecodocx in order to automate manual error-prone business processes and meet the communication needs of today's and tomorrow's customers.
Summary
OpenText Exstream offers flexible applications for batch, ad hoc, and interactive customer communications. Our main goal while writing this article was to help future customers understand what OpenText Exstream is, how it works and what main benefits for IT and business users it provides. If your company is planning to implement OpenText Exstream, upgrade from StreamServe, EMC xPression or HP Exstream Dialogue to OpenText Exstream 16, and you would like to get a consultation on what to consider during the upgrade or implementation process, or if you need some help from a professional service provider during one of your projects, or a custom OpenText Exstream training, feel free to contact us.